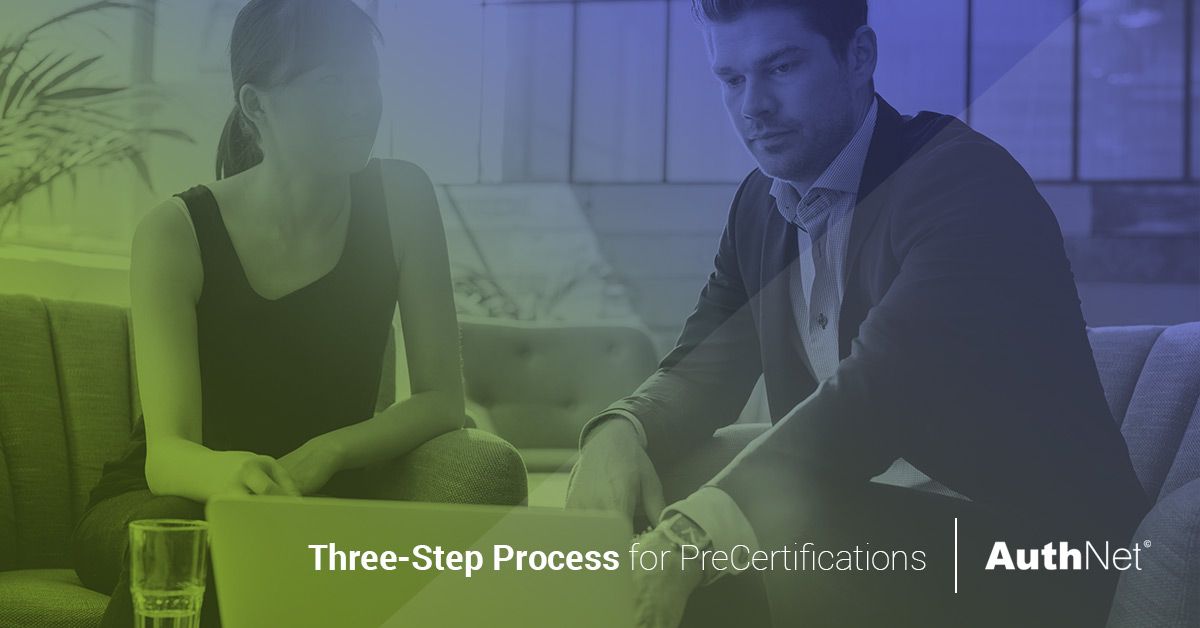 AuthNet's Three-Step Process for Handling Your Office's PreCertifications
Handling your office's medical billing can be overwhelming and it can take your focus away from your patients. For many offices, handling this process themselves leads to patient dissatisfaction and reduced cash flow. Fortunately, AuthNet can handle your pre-certification and verification process, eliminating a great deal of the paperwork involved and freeing you up to focus on your practice, making patients happier and growing your bottom line. The process of outsourcing your medical billing to our team is easy. Our simple three-step process will get you started quickly and help our team manage your medical billing for you. Learn more about how it works!
How To Get Started With Our Prior Authorization Services
It all starts with a phone call to our team. Once we've set up your account, your office will just need to go through three simple steps.
Enter your office's information, including diagnosis and CPT codes.
Transfer the information to us through our secure portal.
Give our team your office's login information so we can access your data remotely.
If you want to save even more time, we can enter your diagnosis and CPT codes for you. That takes all the data entry off of your plate so you can sit back and enjoy the fact that your team won't have to deal with the cumbersome process of pre-certifications, prior authorizations and verifications any longer. Want to learn more about the process and what we can do for your medical practice and your bottom line? Visit our website to learn more about how we do it.
Our Specialists Walk You Through the Process from Start to Finish
Outsourcing your medical billing to a third party doesn't have to be complicated. Even if you've tried it before and found it to be more complicated than doing it yourself, you need to try AuthNet. We assigned a preauthorization insurance specialist who will work with you throughout the process, helping you overcome any issues and doing any data entry that you don't want to do yourself. They'll become your partner in the handover process, making sure you understand everything that's happening with your data and that your medical practice has everything that it needs from us. You'll be amazed at how easy we can make the process and you may even wonder why you didn't do this earlier!
Contact AuthNet to Get Started With Us Today
It's time to free up your medical practice so you can focus on patients, not your paperwork. Trust the AuthNet team to walk you through our easy three-step process and get started with our prior authorization and insurance verification process. Just give us a call or contact our team through our website, filling out the form on our contact page. A member of our team will get back to you as soon as possible to get you started and walk you through the process from beginning to end. We're focused on providing high-quality services for your medical process that exceed your expectations. Get in touch with us today to get started!