Are You Ready To Improve Your Billing Process?
Health insurance processes can make medical billing an annoying, overwhelming part of running a medical practice. Our experienced team of pre-certification specialists does the heavy lifting, so you can focus on why you got into medicine to begin with: your patients.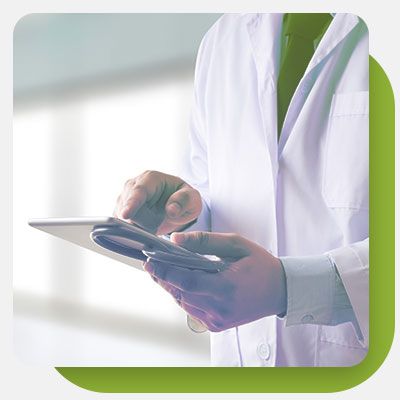 What We Do:
Confirm active patient coverage.
Initiate insurance prior-authorization requests.
Track each request to approval.
Update authorization records at each step through our secure, HIPAA-compliant portal.
Free up your time since we handle the pre-cert process from start to finish.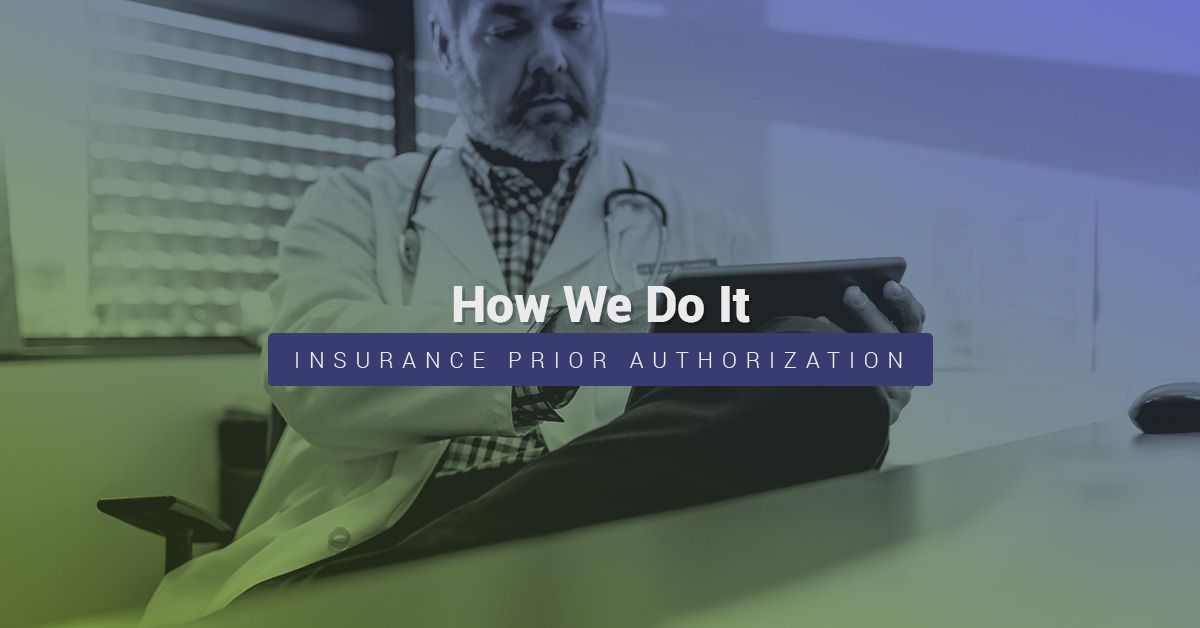 Insurance Prior Authorization: How We Do It
How often do you find that the minutiae of running a successful medical practice gets in the way of caring for your patients? For most doctors, the reason you entered your profession had absolutely nothing to do with the paperwork requirements, insurance processes, or records-keeping (except for how that information can inform treatment). The paperwork and records are a necessary part of keeping a practice running smoothly. Of course, those little necessities can easily build up into major hassle — one that can affect everything from cash flow to patient experience — if the details are not handled appropriately.
Even with staff specifically designated to handle the bulk of the paperwork, insurance filing, and medical prior authorization processes, there is still a great deal to manage. Not only do they (and you) have to ensure paperwork is filled out completely for every patient, but they also have to ensure precerts are obtained in a timely manner, follow up on requests for more information from the physician, and deal with denials. That's not to mention the broader-scale tasks like keeping up with policy changes and staying up on training.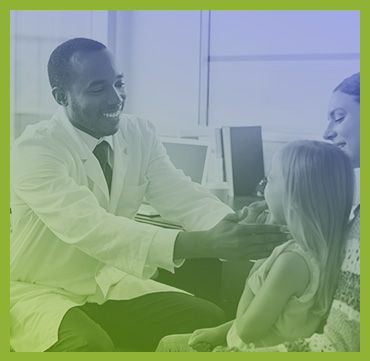 Prior Auth Services When You Need Them Most
The demands of the insurance prior authorization process can have a widespread impact on any medical practice, no matter how large or small. This is where AuthNet steps in to help. Our insurance preauthorization service provides medical practices with knowledgeable precertification specialists to handle all the paperwork so your team can enjoy the freedom to focus on providing the best patient care. We'll take care of everything from initiating an insurance preauthorization request all the way through to final determination, including options for appeal.
Our prior authorization software connects you to our system through a secure, cloud-based portal so you can be sure each patient's information is protected and your practice is HIPAA compliant. Just as important, we keep our team in the know about updated processes and legal changes which affect health insurance so we can provide the best accuracy and efficiency with every precert request. We keep all information easily accessible and neatly organized in a secure portal so you can see all the details when you need them — no more worrying about what happens when your single precert staff member goes on vacation for two weeks.
Let us handle the insurance precert details so your team can focus on what you do best. Here's how our insurance precertification service works:
The Highest Quality, The Best Results
At AuthNet, we provide quality, efficiency, and accuracy for hospitals, ambulatory surgical centers, and private practices struggling to manage the demands of insurance prior authorizations for medical billing.
Our preauthorization insurance services reduce the burden placed on your internal resources and reduce your costs – all while working to increase your reimbursements and profit. So how do we do it?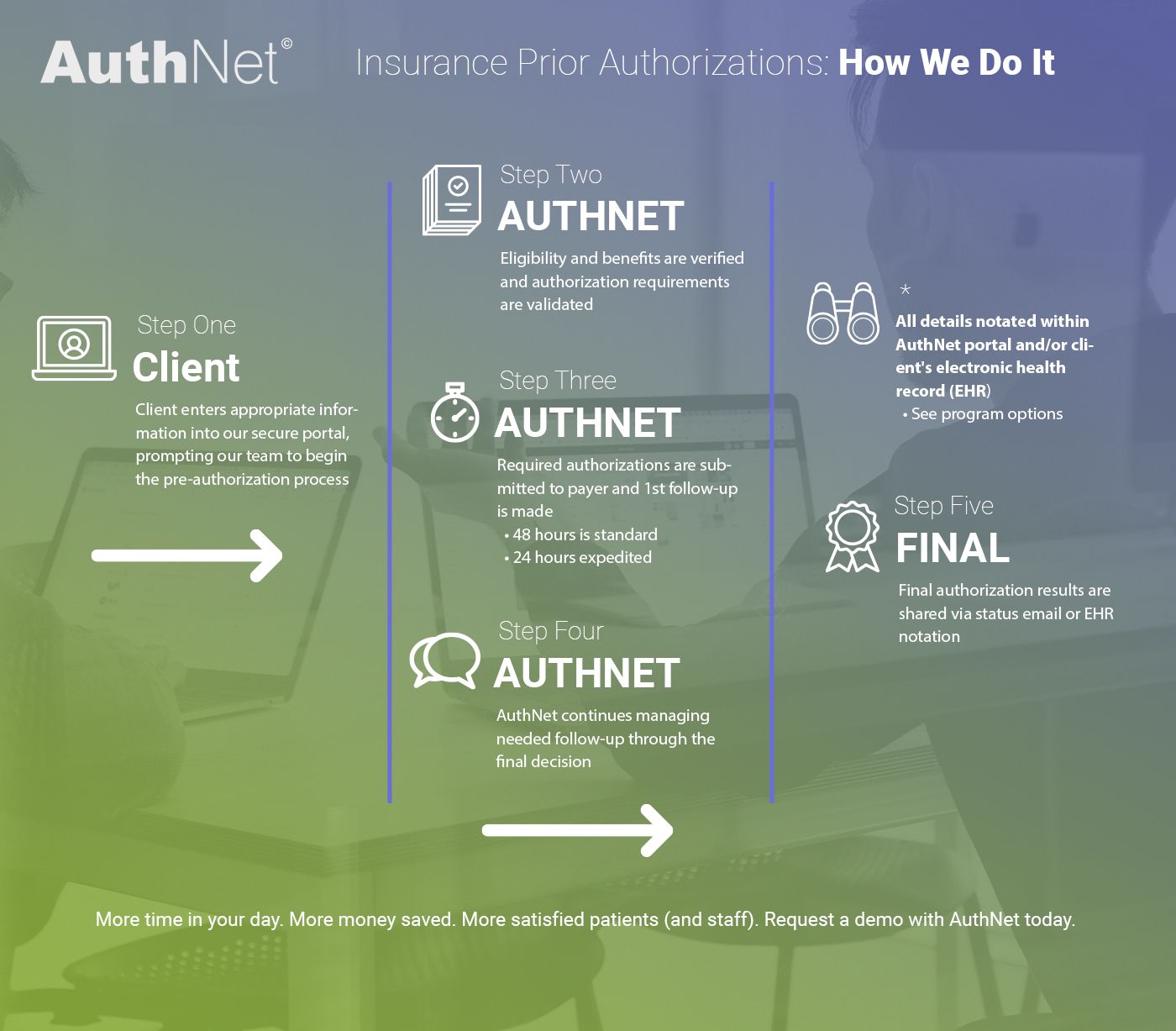 That's it! We'll take care of everything else — really! If you'd like to learn more about how our preauthorization insurance process works and how we can quickly integrate it into your system, get in touch with our team to see a demo and learn more about how we can help recover time and money for your operations.